MARTINA McBRIDE
Birthdate: July 29, 1966
Hometown: Sharon, Kansas
Family: Husband: John
Daughter: Delaney Katharine
Emma Justine

Favorite food: home-cooked food (meatloaf, mashed potatoes, roast beef, fried chicken, etc.) fruit & veggies, chocolate, tacos, cheeseburgers.
Favorite TV shows: Seinfeld, Roseanne (I really don't watch a lot of TV)
Favorite Singers: Lots! They include Buck Owens, Merle Haggard, Patty Smyth, Rickie Lee Jones, Aretha Franklin (her older stuff), Lefty Frizzell, K.T. Oslin, George Strait, Linda Ronstadt
Favorite Season: Fall
Favorite Holiday: Christmas
Martina also says, "I like to go to movies, read, cook, stay at home, and work around the house in my spare time!"




I'd like to be known as someone who records songs that are intelligent and emotional," says Martina. "I don't want to be thought of as 'fluff.' Night after night, you have to be able to stand up there and believe in what you're singing. And I'm really lucky -- I still love everything that I have done. I think I have chosen well."

Indeed. With a catalog that includes such chart-topping singles as "Wild Angels," "Wrong Again," "A Broken Wing" and "I Love You," Martina McBride has surely "chosen well." The CMA's 1999 Female Vocalist of the Year has one Gold album, three Platinum CDs and one Triple Platinum collection to demonstrate her extraordinary talents in choosing songs with depth and delivering them with chest-pounding intensity. What is even more impressive is that her best work appears to be in front of her. The new songs on the Greatest Hits package seem to detonate a fresh explosion of creativity from this artist.

"When the idea for this album first came up, I really struggled with it. I thought, 'Wait a minute: Nobody's going to perceive this as some kind of an end, are they?' I'm far from done. When I realized that I could put on four new songs, it was a big help to me, creatively. That made me feel like I wasn't 'closing a door;' I was opening one. I think this album puts some space between what I have done and what I am going to do in the future. I loved the fact that we could put lots of hits on it, but also that it was saying, 'Now let's see what the next 10 years hold.'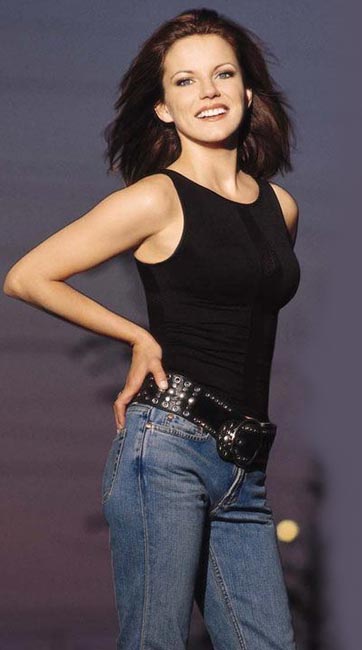 "I can't wait to get out and sing the new songs for people. I think that 'When God-Fearin' Women Get the Blues' is really a breath of fresh air. The woman in this song is so feisty. I think people are really going to like her. I'm really excited that it is the first single. We've made a video for it that's really fun, as well."There's a new song called 'Blessed' that feels like something I could have written for myself. Before I found the song, I'd say all the time, 'I'm so blessed,' because I truly feel like I am. I was given this gift of music. Not only that, I was given a safe and happy upbringing. I was given the intelligence to be articulate, most of the time. I have my beautiful family. And best of all, I was given the gift to be able to enjoy this, realize what it is and not take it for granted.

"The ballad 'Where Would You Be' is very uncharacteristic of me, lyrically. I see that song as very vulnerable and very raw. This woman has these doubting questions, and yet she has the courage to talk about it. Is he here or not here? She brings it up, and that's what makes it so emotional.

"When I first heard 'Concrete Angel' I couldn't get through it -- I cried every time I listened to it. I love lyrics that are true and honest. And this tells a story of child abuse. It opens your eyes and opens your heart and makes you want to do something to make a difference. Hopefully, it will have that effect on people when they hear it."

Martina McBride doesn't seek out songs with messages deliberately. Like a true artist, she responds to songs on a gut level. If they derive their emotional impact from social problems, so be it.

"I never go into the process of picking songs by 'thinking.' I go into it just listening and feeling. I never think, 'I've got to find a song about this or that,' or 'This song's got to appeal to so-and-so.' When one hits me, it's simply a gut reaction. Then I just hope that it will strike a chord with somebody who feels the same way I do."

By nature shy and demure, Martina was raised on a music-happy Kansas farm and graduated from high school in a class of 10. When Martina and her husband John McBride moved to Nashville in 1990, neither one was particularly sophisticated. He used his skills as a sound technician to build Music City's most successful concert-production company. She coupled her spectacular vocal ability with laser-sharp emotional instincts to become a performer with both massive popularity and critical respect. In the process, the songs led her to awareness and social sensitivity.

The anti-alcohol message of "Cheap Whiskey" led to a 1992 video with a don't-drink-and-drive message. Her top-10 breakthrough a year later came via "My Baby Loves Me," a positive lyric where a woman is accepted for who she is, no matter what her appearance or mood.

"That song is about unconditional love," says Martina. "I think it's important to talk to girls before they even start dating. My older daughter Delaney is 6, but she's a very aware child, and we already talk very openly. I tell her, 'The most important thing is that the boy treats you good.' Then I explain what that means." Martina describes the story of "Life #9" -- which hit the top-10 in 1994 -- as being about confronting a wandering guy, "in a creative and interesting way. It's about a woman who says, 'You're on your last chance.'"

But 1994's "Independence Day" was unquestionably, "the song that changed my life," she says. This harrowing tale of domestic violence opened Martina's eyes to a problem that exists on all levels of society. On her concert tours, she began visiting high schools to talk to young women about self-worth.

She now serves as the national celebrity spokesperson for the National Network to End Domestic Violence. A third of all women murdered in the U.S. are killed by husbands or boyfriends. Women ages 16 to 24 experience the highest per capita rates of violence at the hands of their men. Awareness cards that pinpoint signs of an abusive relationship -- and offer five ways of approaching someone who seems to be in such a situation -- are passed out at Martina's concerts.

"About a year ago I thought I wanted to get more involved with a children's organization," comments Martina. "But then I realized this is a way I can help children. This is an issue about our daughters and sons. The cycle of violence can be broken through education. The other day, Delaney and I had a conversation about the different kinds of abuse. I said, 'You know, it's not just when somebody pushes you or hits you. There's another kind of abuse called emotional abuse. That's when somebody makes you feel bad about yourself or calls you stupid or makes you feel like you're no good. That's not respectful. Daddy wouldn't talk to me that way; I don't talk to Daddy that way. You don't deserve to be talked to that way.' Nobody does."

Martina addressed this issue in her 1997 smash "A Broken Wing," which is about a woman escaping emotional abuse: "That woman is alive and well and working in a mall someplace," she smiles.

Martina McBride's startling power with heartache lyrics is undeniable. This was perhaps no better illustrated than in her torrid, goosebump-raising performance of "Strangers," which she feels to this day should have been her follow-up single to "Independence Day." She was overruled back in 1994, but insisted that this exceptional track be revisited on Greatest Hits, adding value to an already outstanding collection.


-----------------
Martina McBride Lyrics
Country Room
Front Door
Email: J3019@hotmail.com