"I am not being bitter," Garth Brooks says, in an exclusive interview with Billboard, of feeling he doesn't quite fit in where country music is heading. "I'm taking my place as an older artist that has to know that the dance has a beginning and the dance has an end, and I'm very proud of the mark that I have been fortunate enough to make. I will now go to whatever God has planned for me next."
But with his musical career coming to a close, Brooks sees himself shifting into screenplay writing. "It's creating like songwriting is," he says. "But it's creating on a [level] that's [so much easier] on my schedule with my girls."
(taken from Exclusive: Brooks Looks To The Future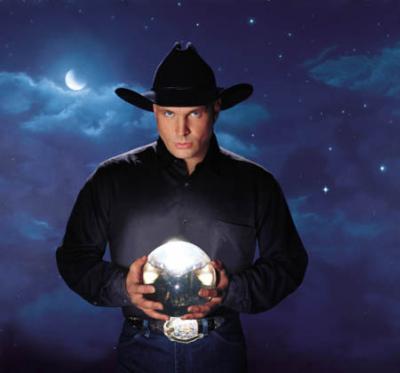 Garth brooks was born Troyal Garth Brooks on Feb. 7th, 1962 in Tulsa, Ok. He married Sandy Mahl in 1986. They have three daughters: Taylor Mayne Pearl, August Anne, and Allie Collen.
MUSICAL INFLUENCES: George Strait, George Jones, James Taylor, KISS, Don McLean, Queen, Dan Fogelberg, Merle Haggard, Boston, Kansas, Journey, Billy Joel.
Favorite country songs: "Country Bumpkin" by Cal Smith, "Unwound" by George Strait, and "He Stopped Loving Her Today" by George Jones
Lyrics..:
Country Room:
Front Door: